Been trying to make this particular excursion happen for some time. I kinda have this thing for rods bending and reels screaming, and with my Lake Michigan salmon trip out of the mix for a summer, this was going to have to be my fix for now. So laying into the monster blue cats that roam Truman Lake was just going to have to tide me over for awhile. Adam and Eric have had them dialed in for awhile now, and it was just a matter of getting the "go" call.
On Saturday, I got that call for a Sunday morning early rise. I, of course, answered.
We had an unusual August day ahead of us; a dawn that could not decide if it should bring us a bit of sun, or just tease us while threatening rain here and there from various directions. And all while holding a 60-something-degree-ish temp well into the morning. Then throw some odd, variable winds in there to make sure we couldn't commit too hard to drifting vs trolling. And the sad thing is, all of that was still better than the sweltering heat that could have been, considering the time of year.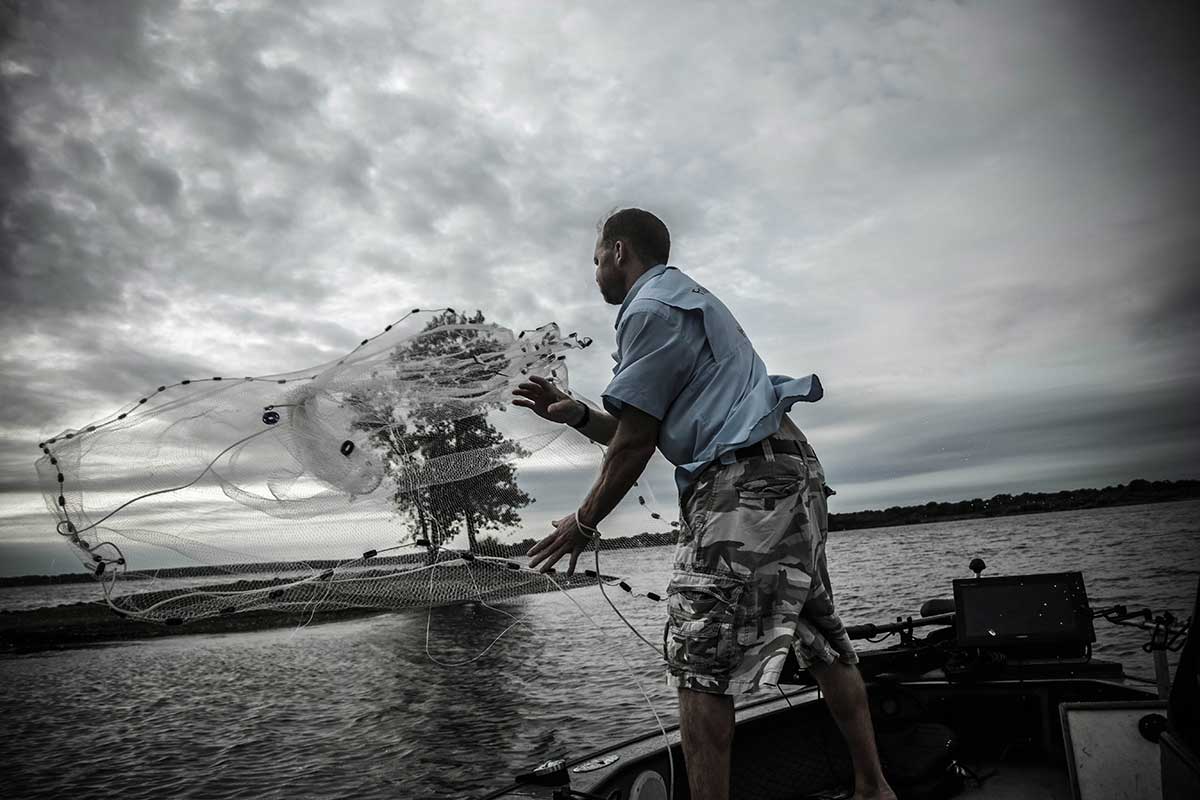 We started out in search of the key item to our day's hunt; bait. Or more specifically, shad. Generally, they were not too difficult to find, and only a few casts in we were picking up nice numbers, but almost entirely small. We caught a few larger, 6-8 inch shad, but not as many as we'd like, and along with a carp we picked up, decided we'd get started utilizing the gifts we'd been given. Small shad beats no shad at all, right?

The fishing began doing something I can't say I've done before. Full on, bonafide trolling for catfish. Talk about making up for my lost salmon trip; we had 11 rods out, deploying planer boards outside of alternating long and short distanced lengths. And we picked up the biggest fish of the day right off the bat.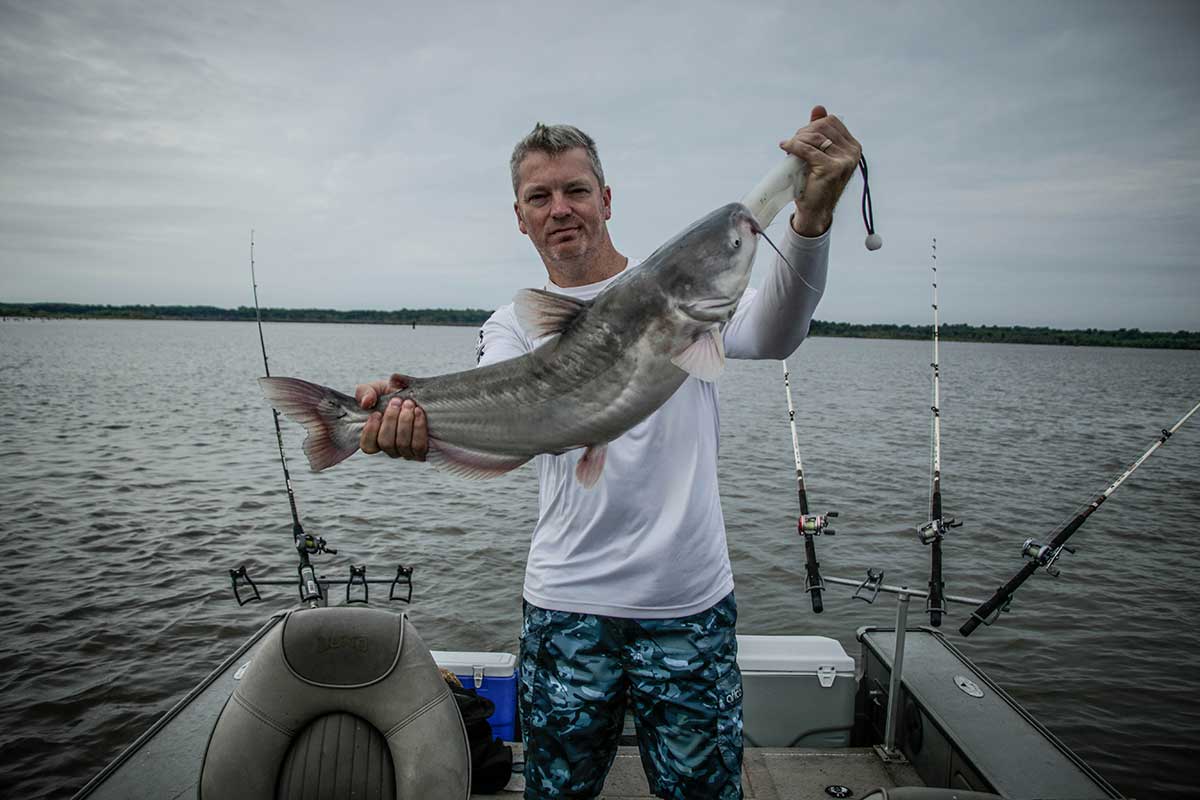 We primarily hung on channel breaks, fishing the edges of the channel, having luck top-to-bottom along the transitions, with a few down in the channel as well.  We shifted back and forth from trolling to drifting, depending on the changing wind, and still seemed to catch them when the drift covered a transition of some kind. Fish were active for us anywhere from 6-7 feet down to 20 FOW or so. No magic to it. We picked our fish up on both shad, live, whole, and cut, along with carp sides, on the rigs you see in the included pics.
Our 3-man limit was secured by early afternoon, fishing through a chilling summer rain – I was actually cold – and then getting summer-steamy by afternoon. Very unique summer day, even for the ever-changing, weather-crazy Midwest. Our 30 were all in the 20-28″ range; we had 2-3 slot fish over 28″, and a few smaller ones we elected not to keep.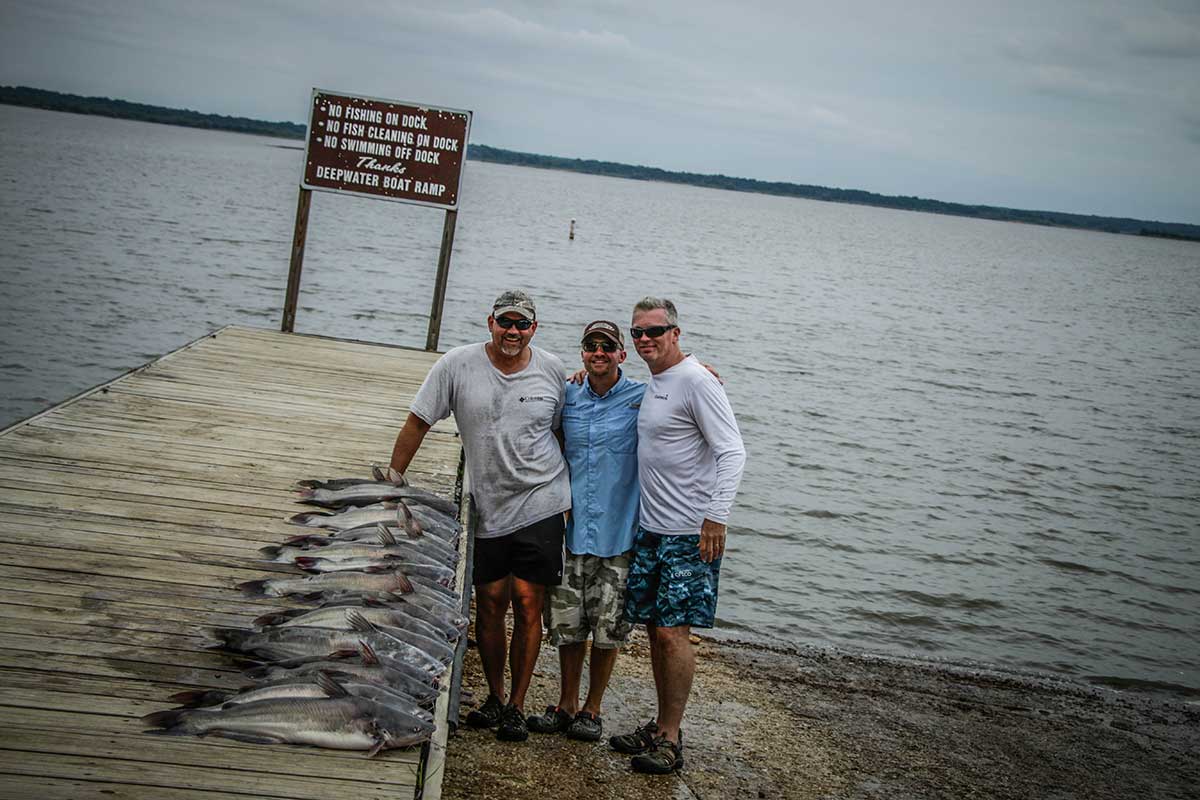 Unfortunately, no giants on this trip. We did lose a few that sent the reels screaming. We each lost at least one that we felt might have pushed beyond the slot. But that didn't really matter. We had an amazing day. The sunrise, and weather alone was a show worth paying for. And our finish, at 3 fish to go, each of us getting one, consecutively, right after the other, to finish, was pretty epic.
Another amazing day on the water, being blessed with the friends and the opportunities I have. I love every minute of it.