When you think of smallmouth bass, most of us immediately think of more northern waters. It's definitely not something that is "top of mind" for most Kansas anglers. I can say with confidence that I, a lifelong resident here, and I'll assume an above average fisherman (in terms of time on the water), have never targeted the species – never – in my life. And if I did, it'd be a trip up to Minnesota or Canada, or something, right?
I know that they do, in fact, swim locally. And we have caught them – on accident a few times, in creeks here and there in southern Missouri, and even close by crappie fishing at Melvern. But not with any consistency, and certainly not with any intent.

All of that being said, it was definitely something I had always wanted to try; something different, exotic, a change of pace. I just didn't think it would happen here… in Kansas? Really?
Enter Brian Ondrejka. Brian has become a good friend and colleague of our Kansas Outdoorsman group over the past couple of years. Brian is an amazing and talented fisherman who grew up on those northern waters in Wisconsin, but who, after moving to the Midwest years ago, knows a number of the local lakes – arguably – better than anyone. In fact, Brian took his passion, enthusiasm, experience, and love of the sport and started up a guide service in 2015.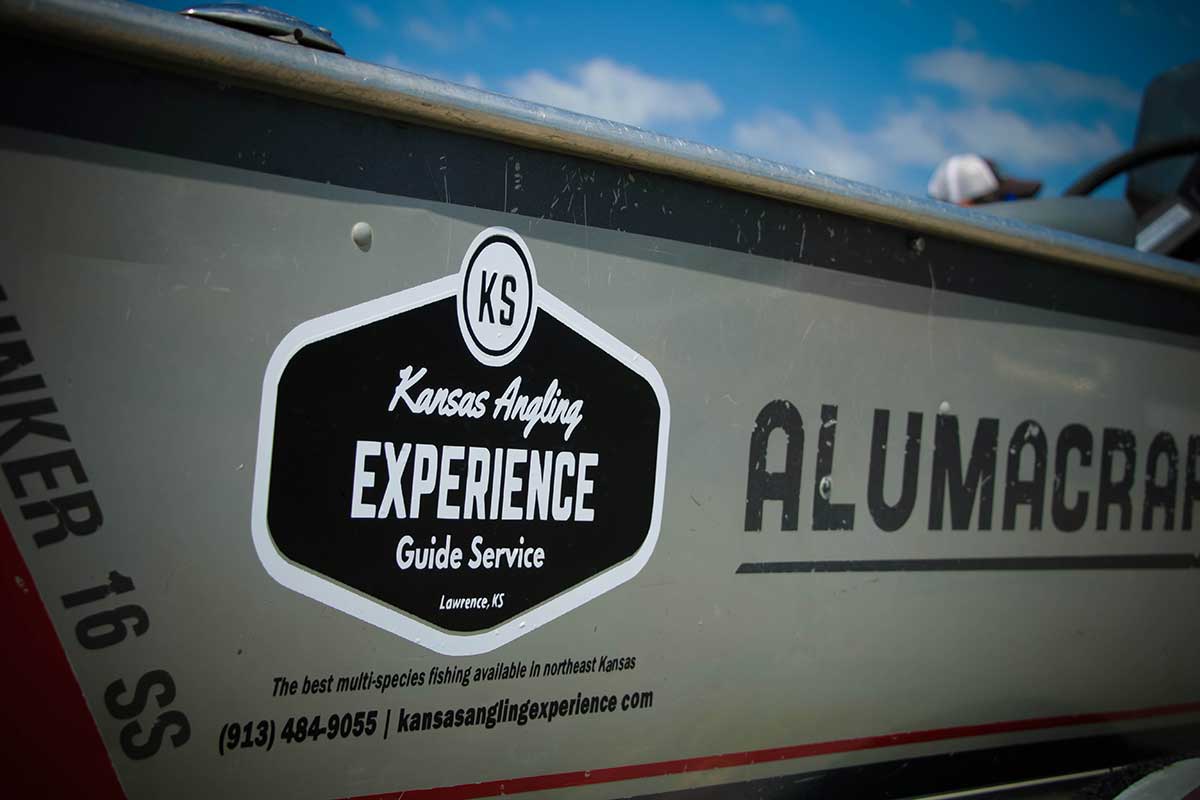 Brian operates Kansas Angling Experience Guide Service – and has seen a great deal of success in his first two seasons, with a growing business that includes a steady flow of new fisherman, as well as a strong repeat business. And for good reason. His knack for getting clients on the species of choice – whether it's wicked top-water hybrids at sunset, those elusive trophy walleye, or just filling up the freezer with crappie for the weekend fish fry – is something special. But it's his commitment to the angling experience, his desire to educate, to inspire, and to promote the sport to everyone he shares a boat with that sets Brian apart.
Brian gets just as excited as you do when you bring in a nice fish. That is pretty kick ass…
Our morning started with Nick and I at the boat ramp a bit early. Not ones to dawdle, we commenced with filling the dark, wee hours with a bit of casting while we awaited Brian and the boat. Two casts in and Nick, struggling to identify in the dark, confirmed that we had in fact acquired target species. Before we had really even started. From the bank. Nice. This was going to be a good day. Nick proceeded to catch four species – smallmouth and largemouth bass, a walleye, and a flathead – on a crankbait, prior to Brian arriving and launching the boat. I, too, grabbed my first smallie as well, taking the pressure off of Brian before he even got the boat in.
From there, we basically started at sunrise fishing top-water. The story, for me, never changed from here. I started with a POP-R – a favorite of mine, for sure. Had a couple rises to it, but did not hook up. Not far into things, Brian introduced me to my new best friend.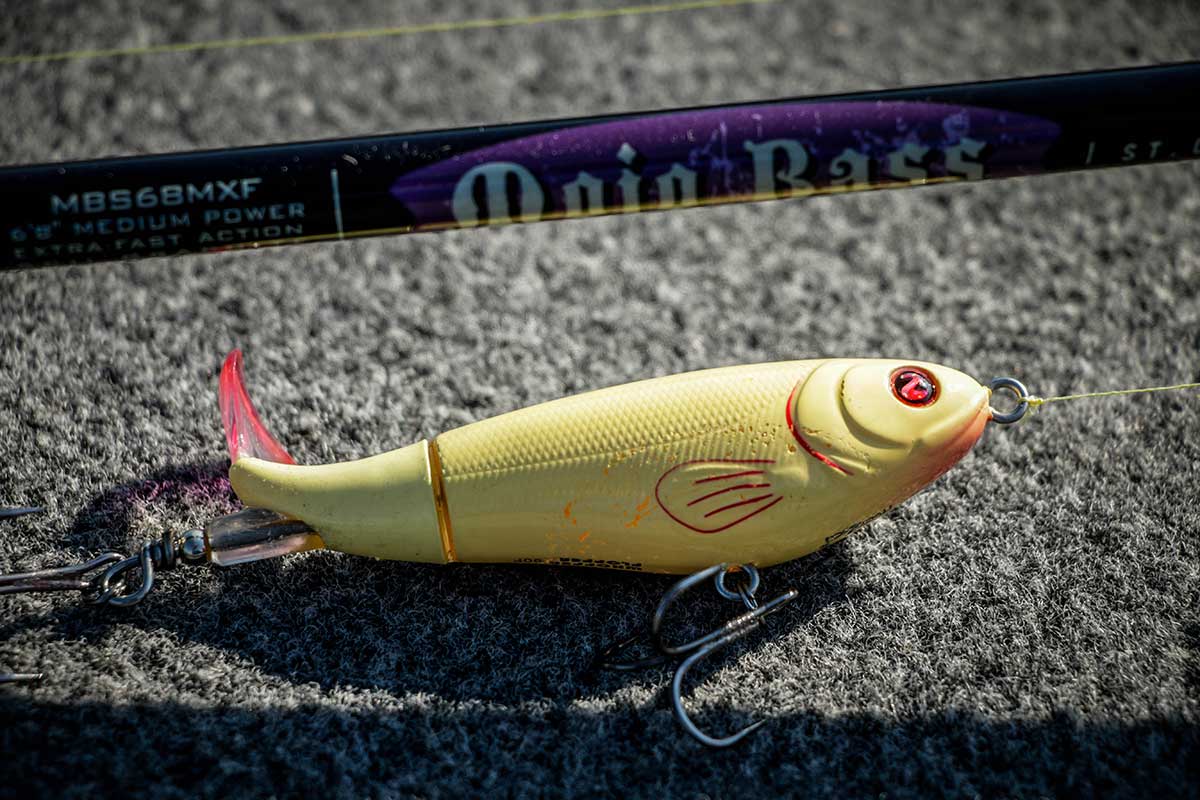 The Whopper Plopper, from River2Sea, designed by Larry Dahlberg in the 90. I fished it in the Bone color. And this is where the story got boring – at least for you, dear reader, but not for me. Because I fished this bait… all morning long. I was still catching fish on top-water with this when we left around 11:00 am.
Now, while I am saying – out of excitement, not arrogance, that I caught the biggest, and probably the most fish (again, crediting luck and the bait here, because I can't hold a candle to Nick and Brian on the water!) – everyone was on them. Brian had the bottom covered, catching them on finesse baits, and Nick fished a crank bait, with plenty of success there as well. Brian even caught a number of walleye, including a keeper that became my lunch a couple days later.
Brian nailed it. Had us on 'em. Active fish, feeding in shallow water, all morning long. And it was an absolute blast. I've done plenty of bass fishing, and love top-water, but something about those bronze-backs, full of fight, with their gorgeous markings and colors. Something different, that not everyone thinks about or fishes for. Almost a hidden gem. This little Kansas "secret" was uncovered for Nick and I, and we made the most of it that morning with Brian.
And, apparently, the smallie fishing only gets better as fall approaches.
I cannot give a higher recommendation than I will right now for Brian and his Kansas Angling Experience Guide Service. And the proof is in his schedule. At the time I'm publishing this, he is down to – literally – a couple dates left in September, and only a couple more in October. Like I said above… there's a very good reason he is booked solid. Visit his site or his Facebook page and give him a follow, you'll see why.